Phaseo ABL1
Single phase power supplies. Input Voltage: 100-240VAC. Output Voltage: 12VDC or 24VDC. Output Current: 2.5A (60W) to 10A (240W)
Part of Modicon
The Dedicated range of regulated switch mode power supplies are designed to provide the DC voltage necessary for electrical equipment. Utlizing switch mode technology users are able to achieve a constant output current with regulation below 3%.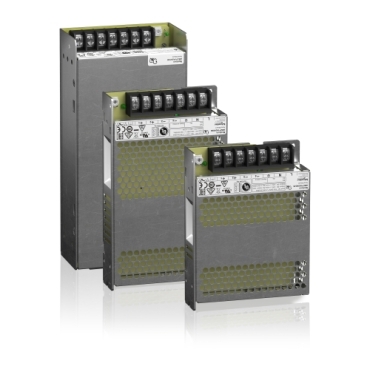 Features

Dedicated Series
Input: single-phase 100-240VAC
Output Voltage: 12VDC, 24VDC
Output Current: 8.3A (100W) to 10A (240W)

Built-in thermal overload protection
Certifications include: UL, CSA, TÜV
Protection against overloads, short-circuits and over-voltages
Considerably reduced weight
Optional din rail mounting accessory
Optional anti-harmonic filter conforming to standards IEC/EN61000-3-2 available

Additional Phaseo Power Supply Series:

Modular Series


Input: single phase 100-240VAC

Output Voltage:5VDC, 12VDC, and 24VDC

Output Current: 0.3A to 4A

Optimum Series


Input: single phase 100-240VAC

Output Voltage:12VDC, 24VDC, and 48VDC

Output

Output Current: 2.5A to 5A

Universal Series


Input: single and three-phase 100-120VAC, 200-500VAC

Output Voltage:24VDC to 28.8VDC

Output Current: 3A to 40A

Benefits

Bring energy to your automated systems!
Designed for simple and repetitive machines, dedicated power supplies are particularly quality / price competitive due to their simplicity and compactness.