Bainbridge: Customer Story Key Figures
24/7 remote monitoring anywhere, anytime
Central location to access performance data
Troubleshooting work reduced from hours to minutes
Six ways to manage hybrid IT environments
Explore challenges in managing hybrid IT environments and get insights on how to resolve them.
Keeping school in session

Bainbridge Island School District

Today's world is a connected one — even in schools. Classrooms utilize technology in every aspect of learning, so a network failure means an interruption in learning. With EcoStruxure™ IT, the Bainbridge Island School District has peace of mind with real-time visibility of their entire network, anytime, anywhere — ensuring continued learning.
Discover EcoStruxure
Learn how your business can achieve success with EcoStruxure: Innovation at Every Level.
• Bainbridge Island School District faced the challenge of monitoring a complex network: a central data center and 35 data closets for 9 schools and 11 facilities

• Frequent storms caused power flickers that resulted in a flood of emails, making it "hard to sort through all those and make sure that everything came back online safely"

• Limited resources further complicated monitoring and response efforts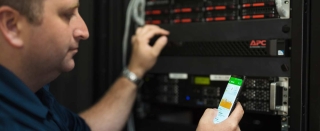 Connectivity and Efficiency with EcoStruxure™

Apps, Analytics & Services: EcoStruxure IT app (formerly Mobile Insights), EcoStruxure Asset Advisor (formerly Remote Service)
Edge Control: EcoStruxure IT cloud-based data center infrastructure management (DCIM) solution
Connected Products: UPSs, racks, and PDUs

• Schneider Electric products and cloud-based software and services work seamlessly to keep staff connected and provide remote visibility of the entire network — from anywhere and at anytime.
• An app-enabled, 24/7 cloud-based monitoring and troubleshooting service reduces mean time to repair and provides peace of mind.
• EcoStruxure IT offers comprehensive visibility of a complex hybrid IT environment. With constant remote monitoring, troubleshooting, and data-driven insights, the staff has visibility and access to actionable information delivered right to their smartphones.

• Enhanced peace of mind for IT and administrative staff knowing that Schneider Electric Service Bureau experts were acting as an extra set of eyes and monitoring the data center on a 24/7 basis.

• With the Schneider Electric Service Bureau empowered with real-time data it has all the information it needs to begin troubleshooting immediately and dispatch if required, ultimately reducing mean time to repair.

•"Off hours" monitoring and troubleshooting work was reduced to minutes instead of hours.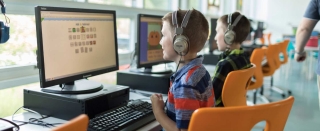 Alan Silcott, Network Director for Bainbridge Island School District
Customer Testimonial
"All of this makes life much easier for me on and off hours. It helps to keep me less tethered to my office. When we are hit by a storm, I only need to spend a minute on my phone and no longer need to set up a laptop, and fight for remote access to the network. That gives me more time to spend with my own family."
Learn more about our solutions