Cooling for Today's Data Center
As the scale and performance demands for today's data centers continues to increase, so does the need for superior data center cooling. Computing creates heat. Data centers, which are filled with servers, generate lots of heat. Excessive heat can cause hot spots that lead to equipment failure and downtime. To remove this heat and avoid downtime, IT teams use a variety of data center cooling methods. It's like air conditioners for computer rooms.
The Path to Cost-efficient Data Center Cooling
Data center cooling is eating up IT budgets. Around 40% (1) of a data center's energy consumption comes from cooling. Fortunately, a new generation of data center cooling technology is keeping energy costs down while enhancing reliability.
There are numerous ways to cool a data center. In fact, our white paper compares 13 methods, and can help you find the best option for cooling your data center. One method is to use precision, in-row cooling units that are placed very close to the source of heat. Recent innovations make it possible to reduce energy consumption to create this cold air. Air economizers bring in cold air from outdoors and send it through HVAC systems to the computer room. Another promising approach is to use cold water from the ocean. Methods like this are helping data center professionals achieve cooling solutions that meet their IT objectives. Learn how we can help you achieve a healthy data center environment with our flexible, integrated cooling solutions.
(1) Reference: Science Direct: "Data Center Energy and Cost Saving Evaluation"
Data Center Cooling Meets Nature
Green Mountain customer story
Green Mountain, a Norwegian data center company, uses frigid fjord water to cool its data centers year-round. This approach, combined with an intelligent DCIM system, allows the company to cut its energy needs by a third. Plus, Green Mountain's data center produces zero carbon emissions.
Data center cooling
Solutions & Benefits
Reliable, integrated cooling – from chiller and economizer plants to computer room air conditioners – tackles the issues head on to lower costs and reduce downtime risk.
Every piece of IT equipment that consumes power produces an equivalent amount of heat. Our efficient, flexible, and reliable solutions help tackle growing demands as more IT equipment is added to existing sites. We provide all levels of heat removal for different sized rooms and applications.
Whether you're building a new data center, retrofitting, or modernizing, we'll help you achieve a healthy data center environment with our data center cooling solutions.
Integrated in-row and in-room cooling
Supports higher-density IT equipment
Eliminates hot spots
Avoids premature equipment failure
Prevents system crashes, random reboots
Efficient, flexible, and reliable
EcoAisle: Flexibility Meets Innovation
EcoAisle delivers the most value making it the best choice for hot and cold aisle containment.
Featured Data Center Cooling
products
Rack Air Distribution
Room Air Distribution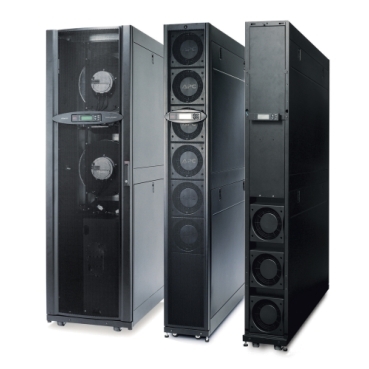 Uniflair Direct Expansion InRow Cooling
Uniflair Ceiling Mounted Split Room Cooling
Choosing the Best Option for Data Center Cooling
High density and variable density IT equipment create conditions that traditional data center cooling was never intended to address. This paper describes improved cooling methods, and provides guidance on when to use each type for most next generation data centers.