MV/LV Electrical Distribution Solution
Approximately one-third of a wastewater treatment plant's overall OPEX can be attributed to energy costs, with the biggest part being electricity.
Masterpact MTZ

Future-Ready for the Connected World.
Application
Explore design recommendations, productivity tools and services to support efficient electrical network design, proven and ready-to-go for Waterwater treatment plants.
Find products and solutions
Secure Power & IT Solution
The risk of power interruptions may lead to public health issues or environmental damage and can create expensive contamination costs in a competitive and cost-constrained water market.
White paper
How Secure Power Solutions Support Critical Applications for Water/Wastewater Utilities
Read more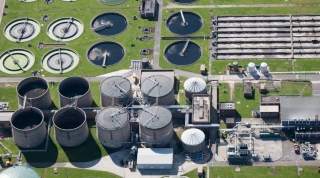 Blog
To Boil or Not to Boil? The Essential Role Critical Power Plays in Water Treatment to Ensure Community Safety.
Find products and solutions
Power Monitoring and PQM Solution
Unexpected power distribution failures can waste valuable time and incur significant losses. We offer unique solutions to ensure issues are identified and solved before they cause serious problems in your operations.
Find products and solutions
EcoStruxure™ Success Story
McCormick Commission of Public Works

Power management controls energy costs and distributed generation.