Power management made simple
Transforming buildings from grey to green
Commercial facilities, industrial and public buildings consume over 60% of the world's electricity and produce over half of all global carbon emissions. Power digitalization transforms building operations and helps achieve a more sustainable future.
Explore our blog
What is power management?
Reduce energy spend and accomplish energy sustainability goals:

• Understand how energy is consumed throughout the facility and proactively detect abnormal energy usage.
• Use energy normalization tools to monitor energy in the context of production for energy intensity KPI tracking.
• Automatically generate energy performance, carbon reduction, and regulatory compliance reports.

Maximize power availability and electrical system performance:

• Install power meters to get real-time visibility of power flowing through the facility from mains to final distribution.
• Use relays and breakers to isolate faults, shed non-critical loads and automatically transfer to alternate power sources.
• Track electrical capacity in all circuits to balance circuits, avoid overloads and ensure sufficient backup power availability.

Minimize the impact of power disturbances and prevent equipment malfunction and damage:

• Power Quality Instruments (PQI) for accurate and reliable power quality monitoring and disturbance capture.
• Specialized diagnostic tools including disturbance direction detection, load loss detection, and incident timeline analysis.
• Power quality correction equipment including active harmonic filters and dynamic voltage restorers.

Avoid downtime, reduce maintenance costs and extend the life of your equipment:

• Install sensors and smart devices with onboard diagnostics to enable predictive and condition-based maintenance.
• Proactively send alerts if a setting changes, a hot spot develops, or equipment components are wearing out.
• Partner with Digital Service Providers for expert decision support and remote monitoring services.

Save money by reducing energy spend:

• Monitor facility energy use with revenue grade monitoring at service entrances
• Compare utility bills with internally generated "shadow bills" and check for billing mistakes
• Install capacitor banks to improve power factor and lower electricity bills and avoid paying surcharges
Digital retrofit solutions for buildings in three easy steps
Power digitalization plays a foundational role in
active energy management
and efficient facility operations. Retrofitting electrical systems with smart devices and using power management software to improve energy efficiency and reduce risk is a great investment with a typical payback of less than two years.
Discover PowerTag in 60 seconds
The power digitalization process is based on the collection of energy usage, power quality, and electrical asset performance data.
There are many different types of devices, such as PowerTag wireless energy sensors, that measure energy consumption and make power measurements available via communication protocols.
Energy and Power Management System (EPMS) software is specifically designed to interrogate these types of devices across the local area network and collect energy and power information. This data serves as the foundation for EPMS software to further process and then present as actionable information via specialized energy and power management web applications.
Learn more about PowerTag wireless energy
Discover Power Monitoring Expert in 60 seconds
Streamline activities that were previously tedious, manual, or not done at all. Use EcoStruxure Power Monitoring Expert, our EPMS software, to automate processes, simplify tasks and free up human resources to work on higher-value activities and projects.
EcoStruxure Power Monitoring Expert helps energy managers and facility management personnel evaluate energy usage, track energy performance and manage energy costs. It also helps teams that operate and maintain power systems assess electrical equipment performance, detect power equipment problems early, analyze power events and streamline power quality management.
Learn more about EcoStruxure Power Monitoring
Discover Buildings of the Future
Capture the power of an all-digital, all-electric infrastructure for a more sustainable, resilient, efficient, and people-oriented building.
Integrate your EPMS and share energy and power information with other management systems such as EcoStruxure Building Operation and integrated workplace management systems. Embed EPMS web applications within other systems for seamless access to power management information from virtually anywhere. Connect to the cloud to unlock digital services such as EcoStruxure Asset Advisor and EcoStruxure Power Advisor. Partner with expert service providers to get the most out of your power digitalization investment and enable your building of the future today.
Learn more about Buildings of the
Digital energy and power management in action
Data Centers
Connect seamlessly to your electrical assets for a communicating layer of energy intelligence across your data center. Monitor and analyze your entire distribution infrastructure – from the service entrance to the rack – to help you meet your financial and operational goals.
Learn more by viewing our online demo for EcoStruxure Power Operation.
Register for access to our
Buildings
Improve power reliability and efficiency in your commercial offices or campuses with the precise information you need to ensure uptime and equipment performance while managing energy accountability and sustainability.
Learn more by viewing our online demo for EcoStruxure Power Monitoring Expert.
Register for access to our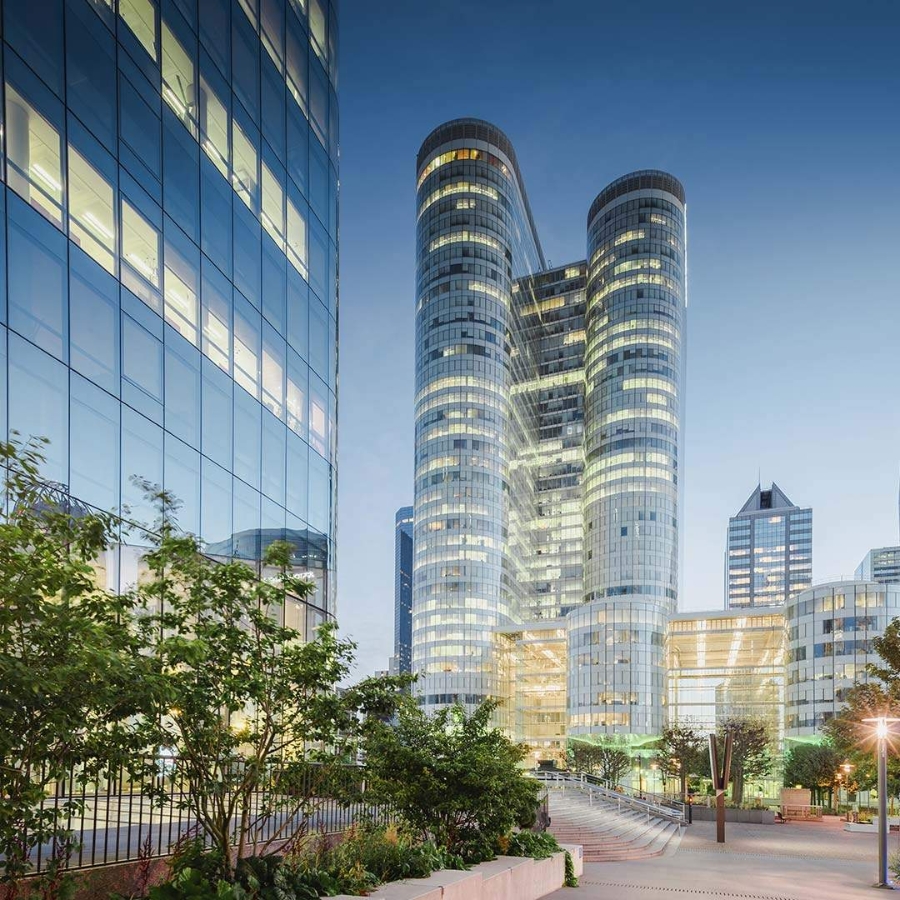 Healthcare
Perfect for the always-on power environment in clinical care settings. Increase continuity of service, even for your most sensitive medical loads, reduce electrical maintenance costs and risk of outages, and optimize power distribution.
Learn more by viewing our online demo for EcoStruxure Power Monitoring Expert.
Register for access to our
Industry
Compare energy efficiency across buildings, plants, or process lines. Analyze energy performance and consumption by load type and ensure energy efficiency compliance. Simplify power quality monitoring and analysis to protect sensitive equipment.
Learn more by viewing our online demo for EcoStruxure Power Monitoring Expert.

Register for access to our