Already an EcoXpert
Let's grow your business further.
Become an EcoXpert
Unleash your growth potential.
Choose an EcoXpert
Certified with some of the highest levels of competency in the industry.
EcoXpert Partners – the Implementation Arms of EcoStruxure™

The EcoXpert™ Partner Program is unique in its industry and made up of a best-in-class global ecosystem of expertise. Trained and certified by Schneider Electric, EcoXperts are the implementation arms of EcoStruxure™ in homes and buildings all over the world.
EcoXpert Partner Program at a glance
Blog Library
Choose from over 50 different EcoXpert Partner Program blogs to read in the Schneider Electric blog directory. From interviews and award announcements to success stories and important industry trends, everything relevant to the partner program is available to read in the EcoXpert blog library.
EcoXpert on LinkedIn
Follow our global LinkedIn showcase page which includes thought leadership posts designed to enable the success of our EcoXpert Partner Program channel and keep you updated on the latest from the partner program.
Choose an EcoXpert™ to optimize your building
Our customers can choose with confidence and partner with a Schneider Electric trained and certified EcoXpert™ for best-in-class technologies, all-in-one solutions and services, on-time and on-budget installation, and a commitment to the longevity of your success.
Unleash your growth potential
Our partners can unleash their growth potential, capture new market share, improve employee talent and collaborate with the EcoXpert network to deliver innovative solutions that win new opportunities.
Learn why customers prefer EcoXperts
Working with partners we trust is as important to us as it is to our customers. EcoXperts deliver innovative and sustainable solutions, through integrated technology and digitization, to our shared customers.
Become one of the industry's most respected experts
Join an esteemed network of technology solution providers, employing some of the highest competencies in the industry. Cultivating collaboration and innovation, the EcoXpert partner program opens the window to new opportunities for our partners.
EcoXpert Receives 5-Star Rating in CRN's Partner Program Guide Three Years Running
The 5-Star Partner Program Guide rating recognizes an elite subset of companies that offer solution providers the best partnering elements in their channel programs.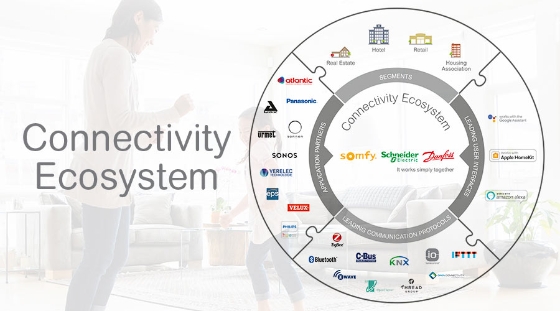 Connectivity Ecosystem
It is time for major industrial players to bring connectivity to maturity by delivering efficient solutions that work simply together for residential, mid-size building and hotel markets. At Schneider Electric, we trust our EcoXpert channel partner to install our connected solutions and improve value for our customers.
Find an EcoXpert near you
Our EcoXpert partners are certified in our industry-leading EcoStruxure® architecture and platforms, enabling them to deliver on better-performing buildings for their customers.
Become an EcoXpert Today!
Together, we work toward a common vision of pioneering the future of intelligent buildings and the Internet of Things. Join an esteemed network of certified professionals in building control, power management and energy management.
Chat
Do you have questions or need assistance? We're here to help!