ReactiVar Standard Automatic Power Factor Capacitor Banks
Reactive power compensation for variable load.
This Product is Obsolete
Square D ReactiVar Standard Automatic Power Factor Capacitor Banks are ideally suited for centralized power factor correction in applications where plant loading is constantly changing.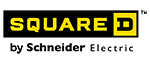 Features

If your plant loading is constantly changing, resulting in the need for varying amounts of reactive power, a centralized power factor correction method is a more effective and economical method to bring the power factor up to the target. The ReactiVar® AV4000 and AV5000 standard automatic power factor correction banks are a flexible and effective reactive power compensation system in low voltage networks where current and voltage harmonic distortion levels are minimal.

An advanced microprocessor-based reactive power controller measures plant power factor via a single remote current transformer (included), and switches capacitor modules in and out of service to maintain a user-selected target power factor.

Voltage rating range from 208 V to 600 V
Capacity available up to 1000 kVAR at 600 V
Capacitor-switching rated contactor with proven reliability
Sophisticated power factor controller options
Backlit display on controller shows current power factor, stage status, load and reactive currents, THD values, alarm conditions and more
QED switchboard-style section constructed of 12-gauge steel frame covered with removable 16-gauge steel panels
Standard section dimensions of 30 in. W x 36 in. D x 90 in. H
CSA and CSA-US listed

Benefits

Avoid power factor penalties and lower your utility bills
Increase distribution system capacity
Implement a centralized, affordable solution
Improve energy efficiency

Applications

Power factor correction system for small to medium industrial, commercial and institutional users.