Baosteel: Customer Story Key Figures
Logistic efficiency increase from 30% to 70-80%
30% improvement in productivity
98% of crane operations fully autonomous
The Value of IoT for Manufacturers
Explore the opportunities of IoT integration and how it brings value to manufacturers.
Smart manufacturing for the steel industry

Chinese steel giant Baosteel transforms its steel manufacturing with EcoStruxure Plant, increasing production by up to 30%, improving worker safety, and reducing labor costs.
Discover EcoStruxure
Learn how your business can achieve success with EcoStruxure: Innovation at Every Level.
Baosteel, the largest modern steel-producing enterprise in China, decided to upgrade its 1580 smart hot rolling workshop as a pilot project for the "Made in China 2025" initiative, championed by the Ministry of Industry and Information Technology. With its digital transformation, Baosteel sought to address:

• Rising labor costs
• Tighter operational safety standards
• Energy efficiency
• Lack of innovation

Officially launched in September 2016, the workshop is set to become an automatic, unmanned, and smart platform for product manufacturing management.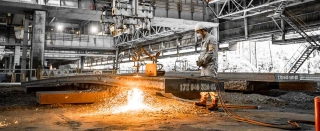 Productivity and Safety with EcoStruxure Plant

Apps, Analytics & Services: Expert engineering services
Edge Control: Modicon M580 PAC, SCADA, and Partner software solution (Fluxx by Synthetis) for management of crane and warehousing operations
Connected products: Altivar Process drives, Magelis HMI, circuit breakers, inverters and switches

Schneider Electric's EcoStruxure Plant delivered the automation solution, technology, and services that Baosteel sought for this major project:

• Industry solutions for unmanned cranes: A complete set of offers, including circuit breaker, inverter, Modicon M580 PAC, safety PAC, switch, Fluxx crane management software, and energy management system.
• Optimized hoisting and logistics system algorithm: Key equipment, including special sensors, ensure an optimal operational state during unattended operation.
• Connected systems: Operational conditions of all equipment are monitored in real time; digital operation of manufacturing equipment is empowered; and supply chain control and decision-making processes are carried out in an intelligent manner.
• Expert engineering services: Expert guidance and customized solutions were provided based on a wealth of industry experience and in accordance with Baosteel's specific needs. The solutions include a three-level service system for local and remote services, to ensure timely responses to the customer's requirements.
With the EcoStruxure Plant solution, Baosteel has realized its goal of unmanned and automatic operation in its 1580 smart hot rolling workshop:

• 30% improvement in productivity. 
• Reduced labor costs: The solution has enabled 98% of crane operations to be fully autonomous which has reduced labor requirements, significantly improved work efficiency, and effectively ensured the safety of operators. 
• With an average daily output of up to 10,500 tons, the slab stack transfer rate has been increased from its original 30% to between 70% and 80%, greatly improving logistics management and completely eliminating material losses. 
• Reduced mechanical wear and more efficient asset maintenance and utilization. 
• Digital operation and higher level of intelligence for the complete supply chain, analysis, and decision-making process.
Wenqing Yuan, Hot Rolling Mill Plant Director, Baosteel
Customer Testimonial
"With Schneider Electric's expertise in energy management and automation, the 1580 hot rolling workshop will see significant improvement in engineering control, efficient and smart operation, safety and reliability."