With our commitment to sustainability and helping customers maximise their green efforts, our
Buildings of the Future
vision will reach sectors like Schools as well, making a positive impact for future generations.
More stories are coming, watch this space!
Cleaner-energy Vehicles
EcoStruxure™ eMobility
More than just an electric vehicle (EV) charger, eMobility opens doors to a spectrum of players involved in the Electric Vehicle (EV) infrastructure, such as car manufacturers, commercial fleets and public network operators. eMobility will revolutionise the market with new business models and energy management strategies that can result in up to 30% reduction in CAPEX and OPEX. An optimised microgrid management supported by battery storage will also help EV providers achieve zero blackouts, apply tariff management, demand charge management and provide demand response advice to requests by commercial aggregators.
In collaboration with SkillsFuture Singapore and Nanyang Polytechnic, a "Electric Vehicle and Charging System" course will provide engineers and specialists with the knowledge to sharpen their skills in designing, setting up and configuring EV charging systems, preparing them for new opportunities in the growing EV market.
The Land Transport Authority of Singapore has also recently launched the Electric Vehicle Common Charger Grant (ECCG) to encourage the installation of shared EV chargers in non-landed private residences (NLPRs), such as condominiums and private apartments. As part of the early adoption incentive, the grant will co-fund installation costs of 2,000 EV chargers. The ECCG will be available until 31 December 2023, or until 2,000 chargers have been supported by co-funding, whichever is earlier. Interested parties may apply via the Government's
Business Grants Portal
.
Greener Infrastructure & Buildings
Buildings of the Future
90% of our time is spent indoors, and about 40% of global CO2 emissions are generated by buildings. A modern building embraces an all-digital, all-electric infrastructure to become more sustainable, resilient, efficient and people-oriented than ever. Locally, the Singapore Green Plan has also set targets to 'Green' 80% of Singapore's buildings, require 80% of new developments to be Super Low Energy (SLE) and ensure 80% improvements in energy efficiency (over 2005 levels) for best-in-class green buildings, all by 2030.
With increasing priorities on occupant health and solutions to tackle climate change, buildings of the future should leverage IoT solutions to maximise electrification and actively manage energy use for better user and operational benefits. Explore our strategies and solutions
here
.
Kallang Pulse
As a regional headquarters for East Asia and Japan, the building that was first established in 1996 is one of our proudest projects. The building is retrofitted in 2018 with our wide range of EcoStruxure™ solutions, from Building to Power, IT, Machine, Plant and Grid. Containing over 1,100 Schneider Electric devices amounting to 3,000 connected points, 163 CCTV, 214 Card Access, 164 PowerTags and 277 workplace sensors. Kallang Pulse now houses approx 1,250 employees from four original office sites in one, achieving a 30% reduction in overall office footprint, 30% reduction in passive energy consumption and 10-15% reduction in active energy consumption. The building attained carbon neutrality in 2020 and was last certified with the Green Mark Platinum Award in 2021.
JLL APAC Headquarters
As a leading player in Commercial Real Estate, JLL regional headquarters in Singapore exemplifies the workplace of the future, featuring a single platform that manages all facility systems and integrations. The office space achieves operational efficiency and sustainability goals through IoT integrations and conditional-based maintenance. On the user experience front, occupants' thermal comfort and well-being are also being taken care of with a seamless user experience and engagement. As Darren Battle, Head of Corporate Real Estate and Workplace at JLL APAC puts it, "users don't even have to touch a switch". With Schneider Electric solutions such as EcoStruxure™ for Real Estate, JLL's new Asia-Pacific headquarters in Singapore leverages smart IoT technologies to support the company's ambitions of creating the workplace of the future.

"These solutions help JLL improve the well-being of the occupants of the building, reduce energy use by 30%, and increase overall building value in a completely sustainable way."

- Darren Battle,
Head of Corporate Real Estate and Workplace,
JLL APAC
Read its case study
Capri by Fraser, China Square / Singapore
With the aim of increasing Guest Satisfaction, Operational Efficiency and Improving Energy and Sustainability Performance, the hotel residence approached Schneider Electric to implement it's Building Management System (BMS), Guest Room Management, Glass Touch Panels, all of which are fully integrated into the EcoStruxure Building Operation. Partnering with a single vendor ensured minimal disruption in project implementation and maintenance, which helped Capri by Fraser maintain strong partner and customer relationships with an occupant-focused approach across all its facilities' technologies.
Read its case study
Daikin Singapore via BMS Engineering
Schneider Electric EcoXpert Partners such as BMS Engineering (now acquired by Daikin Singapore) provide third-party expertise and integrations to make our solutions become more comprehensive for our customers. One such example is demonstrated in local tertiary institution, Ngee Ann Polytechnic, which implemented an upgrade on their existing BMS system to incorporate the latest technologies, drive operational efficiency and energy efficiency. The Schneider Electric EcoStruxure Building Operation works as a single platform at the control command centre, while the EcoStruxure Building Advisor provides value-added services and EcoStruxure Asset Advisor provides predictive maintenance of their electrical assets. Such partnerships allow us to give our customers the best-in-class and future-ready solutions to boost their digital and innovative branding.
SAMWOH Smart Hub
Declared as Singapore's 1st Green Mark Platinum (Positive Energy) industrial building, the SAMWOH Smart Hub is a 4-story landmark project designed to achieve the highest sustainability rating and certifications within Singapore's Super Low Energy Building programme. SAMWOH sought Schneider Electric to help design and implement cutting-edge digital solutions. Decked out with the EcoStruxure Building Operation, Smart Panels, Facility Expert Digital Logbook, MasterPact MTZ, ComPact NSX and PowerTag sensors, the industrial building is empowered to provide visibility and transparency on its energy flows, supporting sustainability agenda and OPEX efficiency. The seamless integration of the electrical system into its BMS also ensures an always-on and up-to-date documentation process, where information is already available at hand via a web portal or QR-code for better facility management.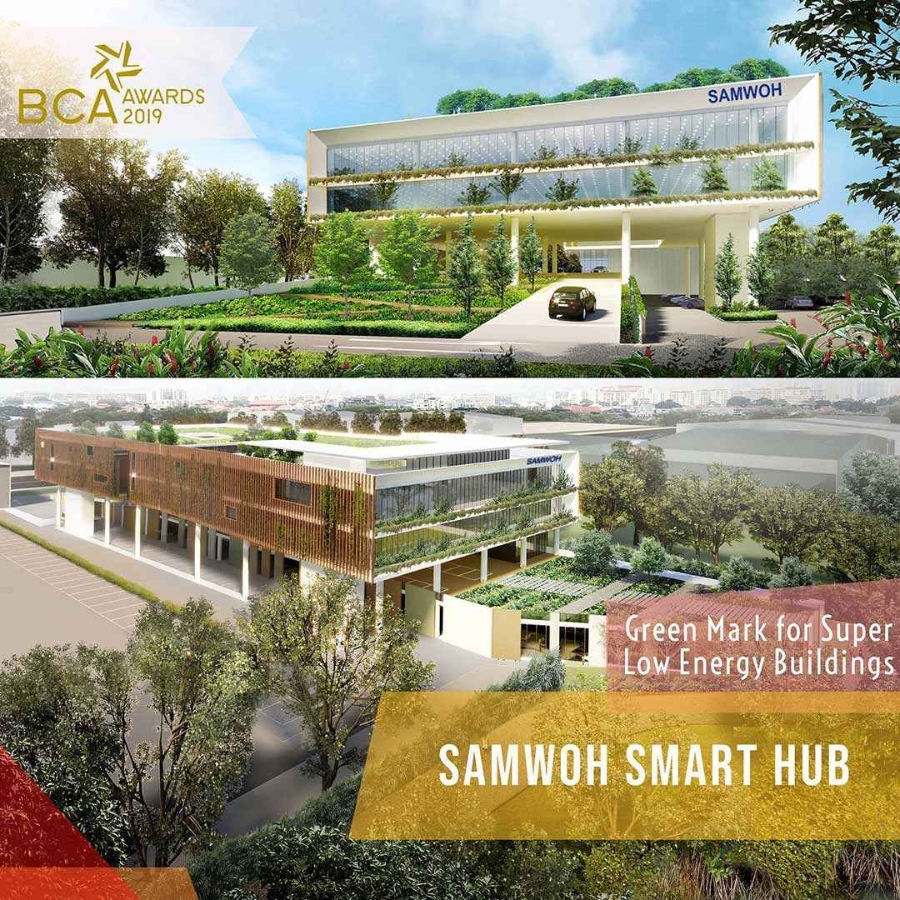 Sustainability as New Engine of Jobs & Growth
Go Green Competition
As a way to involve our community in innovation and sustainability efforts, "Go Green" is a global initiative set up in partnership with AVEVA for students around the world to come together and push the boundaries of digital transformation in Energy Management. Students can submit their #BOLDIdeas in any of the five categories, namely Access, Homes, Plants, Grids and De[coding], and selected participants will receive mentorship, career opportunities and get to pitch their ideas on a global stage. Global winners will be awarded a trip to one of 5 major cities, with the chance to visit Schneider Electric's offices and network with its employees and management executives. Find out more information on the competition
here
.
Energy Generation Program for Fresh Graduates
At Schneider Electric we offer Apprenticeships, Internships and Graduate opportunities. We are always on the lookout for passionate people to help us innovate at every level and build a future that empowers all to make the most of their energy and resources, ensuring Life Is On everywhere, for everyone, at every moment. All students and young professionals are welcome to join our Talent Community to find the latest news and opportunities specific to your interests. Click
here
for more information.
Carbon and Energy Efficiency
SF₆-free Medium Voltage (MV) switchgears powered with sensors
An ingenious combination of pure air and vacuum switching technology, the SF₆-free Mv switchgear aids sustainability and helps customers to maintain their electrical networks more safely. Deploying connected digital technologies aimed at decarbonising business operations will deliver meaningful impact for customers to cut their environmental footprint and at the same time improving their operation efficiency. Learn more
here
.
Food security is an essential key to resiliency for any nation. Such key sectors plays a huge part in ensuring a sustainable future for all, and Schneider Electric is glad to play a part.

More stories are coming, watch this space!
Chat
Do you have questions or need assistance? We're here to help!