Veolia Water: Customer Story Key Figures
15%
annual energy savings
20%
improvement in production efficiency
24
hour service continuity
Understanding Industrial Transformation Today
Industrial transformation leaders are embracing a myriad of digital technologies to drive unprecedented operational efficiencies.
Delivering critical services reliably and sustainably

Veolia Water saves energy without sacrificing flexibility and reliability at their wastewater treatment plant.
Discover EcoStruxure
Learn how your business can achieve success with EcoStruxure: Innovation at Every Level.
• Implement a sophisticated wastewater treatment control system inside a tunnel.
• Deliver service continuity, reliability and safety.
• Flexibility to manage seasonal variations of treated water, from 2,500 up to 8,500 m3/h.
• Reduce CapEx/OpEx.
• Meet stringent quality levels and regulations.
• A sustainable solution that would protect the environment and public health.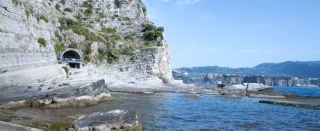 Reliability, Safety and Efficiency with EcoStruxure Solutions

Apps Analytics and Services: Plant Operations and Energy Management
Edge Control: EcoStruxure Hybrid DCS
Connected Products: Altivar Machine drives, power meters, LV & MV panels

• Electric cabinets with a special medium voltage panel, corresponding low voltage panels, and an automation panel (PLC and HMI).
• Panels integrate into the site infrastructure through an intelligent and communicative architecture open to all main industrial networks (Ethernet TCP / IP, PROFIBUS-DP, Modbus etc.)
• The automation component uses an EcoStruxure Hybrid DCS solution. The automation architecture provides:
    - Multiple distinct control units.
    - An efficient, high-speed network for exchanging information between control units.
    - A network for data exchange between control unit and supervisor.
    - A central supervision system capable of managing and presenting a significant amount of information to operators.
• Reduced downtime and response times for improved service reliability.

• Redundancy and system interoperability.

• Up to 15% energy – and associated costs – saved.

• 20% improvement in production efficiency.

• Integration of process and energy data.

• Improved traceability and reporting in compliance with regulations.

• Better system surveillance.
Gianfranco Favali, Project Design Department Manager, Veolia Water Technologies
Customer Testimonial
"The quality of the results achieved from the use of this platform has fully met our needs and will be replicated on other projects."