Altivar

61
Drives for variable torque from 0.5 to 900 hp
Part of Altivar
Frequency inverters for 3-phase asynchronous motors from 0.5 to 900 hp, variable torque applications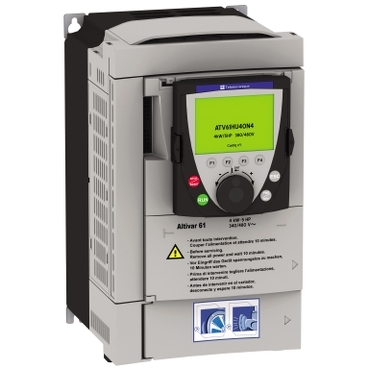 Features

3-phases 200/240 V - 380/480 V - 500/690 V

UL Type 1/IP20 from 0.75 to 800 kW. (1 to 800 hp)
UL Type 12/IP54 from 0.75 to 800 kW. (1 to 800 hp)
Speed range: 1:100 in open loop mode.
Overload: 110% ... 120% - 60 s.
Graphic keypad: plain text, navigation button, "Simply Start" menu to start immediatly and profit at once from the full performances of Altivar 61. vIntegrated EMC filters class A or B.
Energy saving law, Quadratic motor control law.
Conformity to the international Standards and Certifications: CE, UL, CSA, C-Tick.
Modbus and CANopen integrated.
Communication cards for industry: Ethernet, FIPIO, Modus Plus, DeviceNet, Interbus-S, Unitelway and for building LonWorks, BACnet, METASYS N2 and Apogee FLN.
Inputs/outputs extension cards
Multipump programmable cards: ATV38 compatibility and new applications.
PowerSuite software: to configure, to set, to save parameters from your applications.
Eco-design.
More than 150 functions available.
Protection of motor and drive:
Safety function: "Power Removal", ATEX.

How to Videos

Replacing Main Control Board on ATV61 & ATV71 Drives

Removing an Option Card from ATV61 or ATV71 Drives

Installing an Option Card into ATV61 or ATV71 Drives

How to remove the bottom cover on the ATV61 or ATV71

Benefits

In the heart of your applications!

Open to main building and industry communication networks. Ingenious, the Altivar 61 is personnalisable according to your needs.

Applications

Range dedicated to pumps and fans applications for industry market and building market

: exceptional performances, advanced functionalities.

High performances variable torque applications:

Fan: Safety with forced function (inhibition of the defects, selection of the direction of walk and the reference speed).
Multipump: With the programmable card multipump, Altivar 61 bring you flexibility, user-friendliness and adaptability in management of several pumps.
Pumps: Essential functions for your installation protection under load, overload and fluid absence detection.