NetBotz Rack Access
A fully integrated, scalable rack management solution with mass configuration enabling remote and local access control for APC and other, 3rd-party enclosures.
Rack access control, surveillance and environmental monitoring all in a single view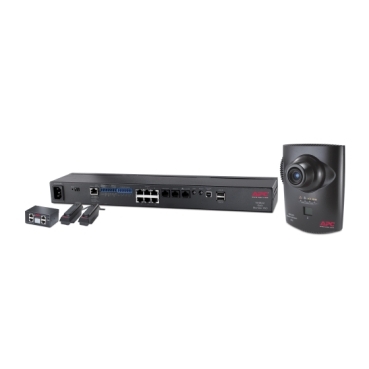 Features

APC's Rack Access solution seamlessly integrates with NetBotz, providing a single interface for management and control of rack access privileges, as well as surveillance and environmental monitoring. The Rack Access Pod connects via A-Link and mounts in the rack basement, maximizing space usage. Mass configuration of up to 130 doors makes large data center deployments easy. And because it uses NetBotz architecture, it saves IP address and associated costs, and it integrates with StruxureWare Data Center Expert. HID technology and proximity cards enable integration with building access control systems as well. APC's Rack Access solution scales easily and can be used for APC NetShelter SX or any brand enclosures.



Benefits

Availability

A-Link communication port - Deployment flexibility allows sensor pods to be up to 1000 meters from a compatible NetBotz appliance.
Door contact - Enables a NetBotz appliance to detect the act of opening a door, which triggers surveillence recording.
Physical access control - Grant authorized people access to equipment through proximity card authentication.
Proximity Card User Registration - Register proximity cards to specific people.
User Access Scheduling - Grant equipment access for specific times for each proximity card configured.

Manageability

Integrates with StruxureWare Data Center Expert - An IT-ready, scalable access monitoring system that collects, organizes, and distributes critical alerts, surveillance video and key information, providing a unified view of complex physical infrastructure environments from anywhere on the network
Master Key Override - Override electronic access with a hard key for power outages and maintenance.

Protection

Password Security - User-selectable password with strong password rules and reset password mechanism.
Read-only Access - Share access without risking unauthorized configuration changes.