Power Quality Solutions

Learn how power quality improvement solutions from Schneider Electric can help improve your operations, minimize costs, and maximize reliability.

Power Quality Performance Module

Power quality issues can cause downtime, equipment malfunctions and costly utility bills. Learn how the Power Quality Performance Module can help you detect, identify and diagnose power quality issues to avoid financial losses.

Power Quality Issues in a Healthcare Facility

Learn how a hospital was able to correct power quality issues to keep critical medical equipment running smoothly.

Got Dirty Power? Clean it up!

Dirty power is stealing from you. AccuSine™ PCS+/PFV+ active harmonic filters can clean up your power to maximize uptime and efficiency, improve equipment lifespan, and lower operating expenses. Reduce voltage fluctuations and minimize downtime with this simple and effective solution.
EcoStruxure Power Quality Performance eGuide
Power quality issues can go unnoticed and have a major impact on operations and processes, leading to equipment damage or its useful lifetime being degraded.
Power Quality Improvement
Power quality issues can affect multiple aspects of your business, with a long list of destructive and costly effects. You may be losing money and productivity without even being aware of it. Conversely, the benefits realized from power quality improvement can be multi-fold and long lasting, improving your operations and your bottom line.
Don't let hidden power quality issues wreak havoc on your operations. Implementing power quality solutions is crucial to improving operations, boosting energy efficiency and productivity, and saving money.
Stop paying for power quality issues.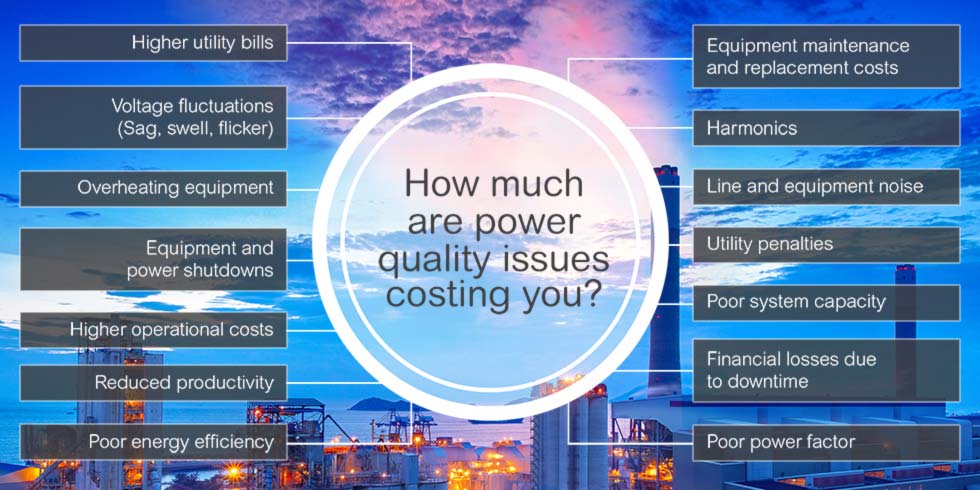 Featured Products and Solutions
Large Food Processing Company
Food processing company improves efficiency and reliability while reducing on-site loading with a power quality solution.
Learn How to Find Hidden Utility Bill Penalty Charges
Download this sample utility bill and discover how to find hidden charges on your bill. See how much you could save yearly with a power quality solution.
Symptoms of Power Quality Issues and Solutions for Correction
Learn to identify the signs your facility may have a power quality issue with this interactive e-Guide. complete with case studies and videos. Discover the damaging effects of poor power quality and what type of corrective solution is right for you.
Test your PQ IQ!
Know the types of power quality issues you can have? Or the cost of power quality problems? Learn the facts in this infographic.
New York Hospital Avoids Critical Downtime and Equipment Issues
A large regional hospital needed to protect its mission-critical, sensitive medical equipment from destructive voltage fluctuations and power quality issues.
Hospital Corrects Power Issues Causing Equipment Shutdowns
Learn how a hospital was able to identify why a kidney dialysis machine was shutting down in the middle of treatments and how they fixed the issue.