Tüprag: Customer Story Key Figures
Safe and reliable equipment
Improvement in safety and reliability
Flexible solution for expanding needs
IoT-enabled power distribution
Learn how digitization of power distribution is taking building safety, reliability, and efficiency to new limits.
Safety and reliability at Tüprag

13 tonnes of gold are produced every year thanks to an efficient electrical distribution system which ensures more safety and reliability for gold mining at Tüprag.
Discover EcoStruxure
Learn how your business can achieve success with EcoStruxure: Innovation at Every Level.
• Set up electrical infrastructure for the largest gold mine in Europe.

• Manage and control its electrical distribution system efficiently, reliably and safely.

• Create innovative solutions for specific needs such as removable substations to operate an electrical excavator and two electrical drillers.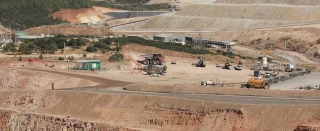 Efficiency and Reliability with EcoStruxure™ Power

Edge Control: EcoStruxure Power SCADA Operation
Connected Products: SM6-36 and MCSet air-insulated switchgear (including MV Thermal monitoring and Arc Flash detection), Trihal transformers, MV components, Blokset and Okken LV Panels, Drives (VSD)

• 90% of the electrical equipment at the Tüprag mine are built by Schneider Electric.

• A Schneider Electric field supervisor works on site at the Tüprag mine.

• Solutions for specific needs open new dimensions for the gold mining business. For example, a tailor-made E-House Skid Mobile Substation solution includes two removable electrical substations designed to feed an electrical excavator and two electrical drillers with remote monitoring functions.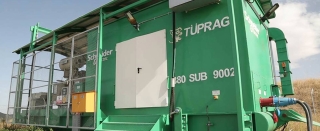 Solutions provided for safety and reliability

• Electrical supply of excavators and drillers with mobile E-House substations for reliable equipment and ideal working conditions.

• Improvement in reliability with trustworthy and innovative solutions.

• Safe and reliable MV distribution thanks to thermal monitoring and arc-flash detection connected switchgear alongside EcoStruxure allow for future service and analytics software opportunities.

• Peace of mind.
Gökay Kutlu Koçak, Tüprag Gold Mine Electrical Superintendent
Customer Testimonial
"We have undertaken many projects with Schneider Electric since 2003 and it has developed into a successful partnership."