Vamp 300 Series
Protection and Control managers for MV power systems
Part of PowerLogic
The VAMP 300 series offers a comprehensive family of protection and control devices with versatile measurement functions for the management of feeders, motors, generators and transformers. Models available: VAMP 300F, VAMP 300M, VAMP 300G and VAMP 300T.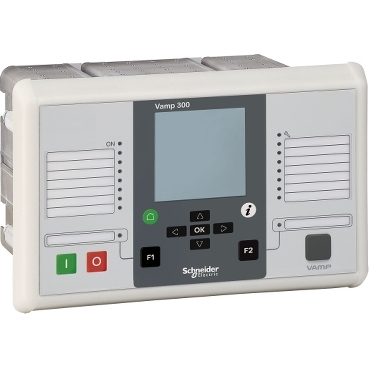 Features

Schneider Electric's VAMP 300 series offers a range of modular protection IEDs which combine standard hardware with advanced functionality and Ethernet based communication. The VAMP 300 series is fully compatible with VAMP's pioneering arc flash protection. Vamp 300 also supplements existing arc flash protection by proving bay level tripping or for capturing measurement criteria from a new place in the existing arc flash protection scheme. The flexible VAMP 300 series has been designed with user-friendliness in mind to meet the protection and control needs of a variety of power systems, offering a complete and reliable protection solution, including optional arc protection.

Standard Manufacturers Warranty: 2 years

Benefits

Complete protection for feeders and motors
Comprehensive selection of protection functions for distribution network overhead lines, cable feeders and motors.
Ultra-fast arc protection
The unique integrated arc fault functionality adds a new dimension to the total safety of the installation and the reliability of the protection and control system. Interface a maximum of 6 point sensors or 1 fibre loop and 4 point sensors to extend the protection scheme to a new dimension with 2 ms tripping time.
Total control
Extensive bay control functionality including local and remote control of 6 objects and status supervision of another 2 objects. Easy-to-use ON – OFF buttons for select – execute control of circuit breaker.
Comprehensive measurements
A range of measurement functions including phase and residual currents, residual, line or phase voltage, frequency, current imbalance, maximum demand, negative phase sequence current, active and reactive power and energy according to the primary connection.
Power quality analysis
Power quality analysis includes supervision of harmonics up to the 15th order, THD of currents and voltage as well as voltage sag and swell.
Full recording features
Following a fault, the relays provide upto 2000 event sequence recordings, fault value registration and disturbance recordings.
Programmable protection stages
Including overcurrent, overvoltage, undervoltage, earth fault and frequency protection.
Extensive communication
A large number of supported communication protocols are included: IEC 60870-5-101, IEC 60870-5-103, Modbus TCP, Modbus RTU, Profibus DP, TCP/IP, SPA-bus slave, DNP 3.0 and IEC 61850.
User-friendly configuration
The free of charge VAMPSET software simplifies configuration, commissioning and operation and ensures the protection and control needs of users are easily achieved. Standard USB (type B) cable and connection for setting tool.

Applications

VAMP 300F: Applications where reliable control and protection is needed for feeders including overhead lines, cables and busbars in power system distribution substations, power plants, industrial power systems, and marine and offshore installations.
VAMP 300M: Applications where advanced control and protection is needed for motors and motor feeding cables. Optional RTD interface units enable use of temperature measurements from motor bearings and windings for accurate thermal protection, mimic display viewing and transfer of temperature information to the automation system.
VAMP 300G: Applications where differential protection of generators, protection of generator block transformers or overall generator protection is required. The VAMP 300G is optimal with medium-sized generators up to 150 MW. The external RTD module increases knowledge and accuracy in generator management.
VAMP 300T: Applications with two-winding power transformers where differential, short circuit, thermal overload, earth-fault and voltage protection is required.