Rilux
Simple and EASY product for small installations. Standard version. " Available also in LED light source"
The right choice for smal installations where the simplicity is the first need for the customer.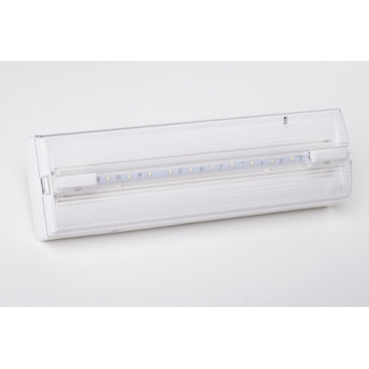 Features

The Rilux range is limited to 7 reference for fluorescent tube light source, other 4 reference are available with Led light source products, meeting the conventional needs of small installations. It is practical, with a base that can be mounted on walls or ceilings. The rest of the unit is clipped on at the last minute. This avoids risks of loss or damage which are commonplace on worksites.

The solution to most of simple emergency lighting installation needs
Main features

Product range optimized to meet the main needs of small facilities and buildings

Very discreet styling

6, 8, 11 and 18 W fluorescent tubes

LED reference available from 100lm to 225lm also in maintained mode

Small thickness: 46 and 55 mm depending on the model

Range description

Standard version

Fluorescent tube light source

LED light source

Three product sizes

Technical specifications


Luminous flux from 70 to 250 lumens

Maintained and non-maintained modes

Quick-mounting installation on wall or ceiling

IP 40, IK 06/07

1h, 1,5h or 3 hours battery autonomy Compliant with EN 60598-2-22

Benefits


Easy to install
Extra-flat shape
Quick fixing plate to avoid theft or breakages

Applications


A range dedicated to all small shops, offices and small commercial buildings; Developed to ensure safe evacuation in compliance with international regulations.