ShoreBoX
Shore connection pre-designed, ready-to-use systems to provide shoreside grid power to ships at berth
The ShoreBoX is a pre-designed shore-to-ship power connection solution that consists of a range of standard components organised in different functional modules fully packaged in a single metal enclosure.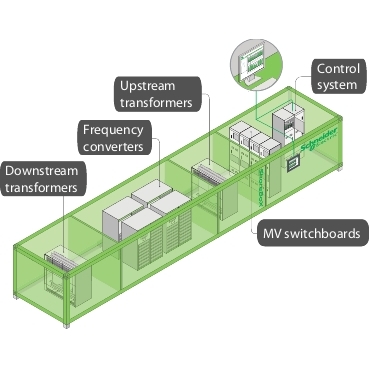 Features

ShoreBoX has been designed with the utmost concern for space and cost optimisation.
All modules include tested, validated, and documented architectures, guaranteeing system reliability.
This solution can be implemented and operated without disturbing port activities. The ShoreBoX solution is adaptable to the different power needs and electrical frequency of the ships and to a variety of port infrastructures.

The ShoreBoX solution is scalable and movable, hence adaptable to changes in berth profile or the electrical power needed by the ships.

It includes an energy management and control system enabling ports to optimise their electricity consumption and thereby reduce operational costs. The system tracks and reports all data in real time, giving ports visibility of energy-source selection, forecasts, simulation, metering and billing. The system also supplies data on the port environmental indicators to make a shore connection investment as green and efficient as possible.

The ShoreBoX is supported by a comprehensive services offer to support ports throughout the entire project, including design, execution and post-sales services. These services are implemented by dedicated trained local teams.

Benefits

Innovative technology reduces energy consumption

Thanks to all GFC (Grid Frequency Conversion) units installed in parallel, the ShoreBoX solutions consume just the energy needed at any given moment, no more.

Safer and more reliable


Proven components and systems
Tested, Validated, Documented systems
Compliant with IEC 80005 international standard

Scalable and movable


Can be relocated when there's a change in berth configuration
Different Compact ShoreBoX units can be installed in parallel for further power extension

Efficient

Best-in-class energy quality and efficiency with GFC technology and an embedded EMIS

Simple plug-and-play solutions


Packaged solutions
Easy to install
Easy to maintain

Cost effective


Standard components
Optimised footprint
Minimal commissioning

Applications

To provide shoreside grid power to ships at berth to meet new port's regulations and reduce pollution and carbon footprint.