Acti

9

C60NA-DC, C120NA-DC, SW60-DC
Switch-disconnectors for photovoltaic installations
Part of 9 Series
Acti9 C60NA-DC, Acti9 C120NA-DC and Acti9 SW60-DC are switch-disconnectors dedicated to the disconnection of direct current photovoltaic circuits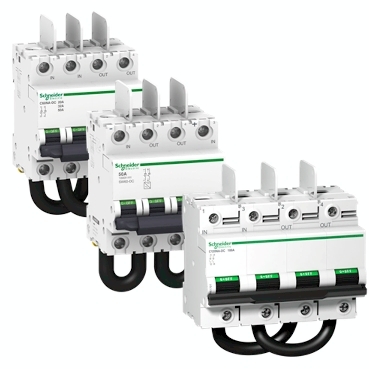 Features

Acti9 range proposes three switch-disconnectors dedicated to photovoltaic (PV) installations:

Acti9 C60NA-DC
Acti9 C120NA-DC
Acti9 SW60-DC.

These switch-disconnectors are designed to disconnect a string of photovoltaic modules and the inverter from the rest of the photovoltaic installation to allow for maintenance operations.

Common Features:

Compliant with IEC/EN 60947-3
Available in 2P
Pre-wired
Can be locked in OFF position for improved operational safety maintenance operations
Delivered with three interpole barriers for improved isaolation between connectors
Remote status monitoring or operation thanks to electrical auxiliairies.

The selection of Acti9 C60NA-DC, Acti9 C120NA-DC or Acti9 SW60-DC depends on the installation requirements:

Operating Voltage (Ue) - Polarized
Acti9 C60NA-DC 20A: 1000 VDC No
Acti9 C60NA-DC 32A: 800 VDC No
Acti9 C60NA-DC 50A: 700 VDC No
Acti9 C120NA-DC 100A: 1000 VDC No
Acti9 SW60-DC 50A: 1000 VDC Yes

Whereas Acti9 C60NA-DC and Acti9 C120NA-DC are non-polarized, Acti9 SW60-DC is sensitive and (+) and (-) need to be respected for connection.

Benefits

Improved operational safety thanks to padlocking option of switch in OFF position

Easier installation, with pre-wired cables.

Applications

Dedicated to direct current photovoltaic installations to enable the disconnection of the inverter from the rest of the circuit to allow for maintenance operations.