What is Technology Partner Program
This is a program for specialists who would like to collaborate with us to deliver best-in-class multi-technology solutions in the energy management and industrial automation markets.
If you can complement our EcoStruxure offer by enabling auxiliary solutions and services — let's partner up. Together we will create solutions to solve customer problems, innovate and scale up quickly through our global reach.
Join the Technology Partner Program and grow your business by:
with access to exclusive developer resources.
using exclusive branding for offers and services.
through global online and offline sales channels.
Build up innovation with EcoStruxure:
Combine your offer to complement EcoStruxure solutions.
Gain special-privilege accesses to our resources support.
Accelerate time to market via co-innovation with Schneider Electric.
Enrich your technology with tools/API, analytics, and data sets.
Scale up your business on Exchange:
Reach more customers and gain visibility.
Publish and monetize your offer.
Access Schneider Electric sales channels.
Be a trusted partner to your customers.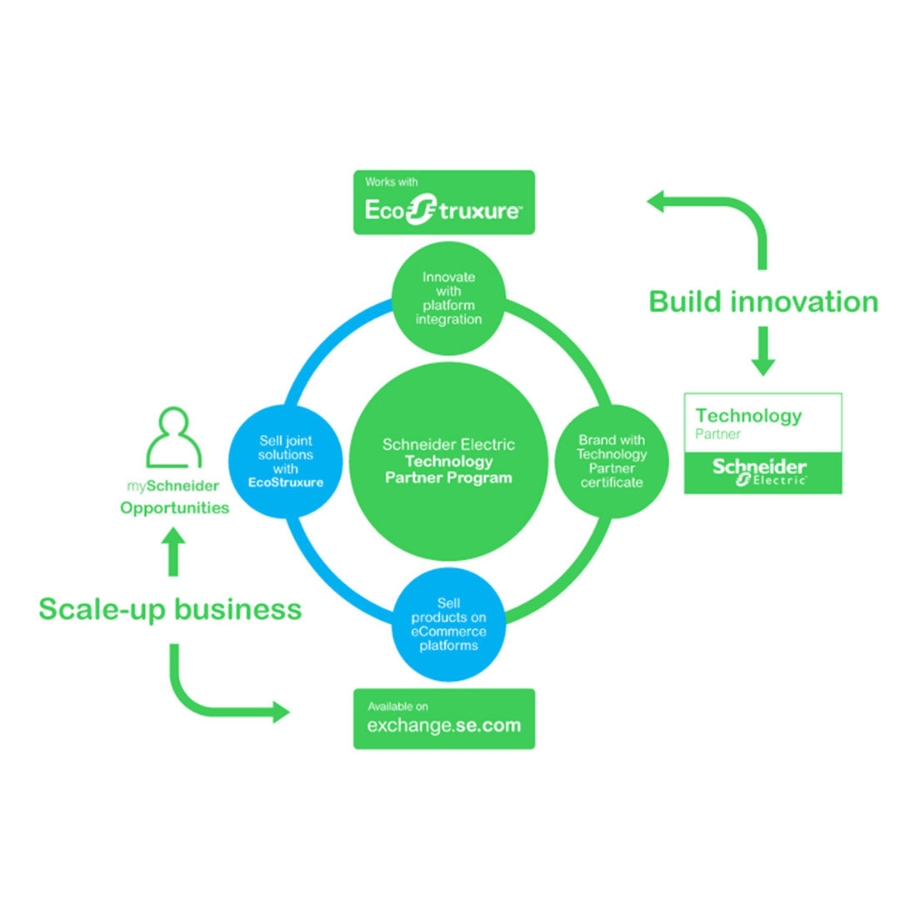 Discover full range of opportunities offered by Exchange
Collaborate with a community of experts and peers to find the right digital solutions, get product support, and discuss challenges.
Publish your products, tools, and resources in a digital marketplace to monetize your offers and intellectual property.
Increase visibility, generate new business leads, and reach your target market of technical professionals across the global industry.
Explore
The Technology Partner within your reach
The Technology Partner Program connects you to a wide range of Technology Partners who provide products to complement and complete Schneider Electric solutions. Access information about Technology Partners, their products, and contact details below.
Communication Network and Cybersecurity
Smart Design and Engineering
No items match your selection
Check selected filters
Reset filters
How can you join the Program?
Demonstrate knowledge on EcoStruxure

Support and demonstrate knowledge of EcoStruxure solutions and markets.

Offer a commercialized product

Use customer success stories to prove the benefits offered by the product on a real-life example.

Be cyber-compliant

Provide cybersecurity compliance with standards.

Get your annual growth plan ready

Set and achieve a growth plan with Schneider Electric.

Registered

You provide technology products with customer references in the domain of energy management and/or industrial automation.

Certified

You provide technology solutions with success stories focused on EcoStruxure.

Master

You are engaged in co-innovation and co-selling of EcoStruxure with Schneider Electric.