Hilton: Customer Story Key Figures
14.5% energy savings since 2009
Averaged 3% savings per year through energy procurement and cost avoidance
Reinvested energy savings into additional hotel amenities for guests
Smart Building e-guide
Discover how you can leverage the IoT to create smart buildings that unlock value.
The Energy Concierge

Schneider Electric offered Hilton innovative, energy-efficient solutions that delivered  lower costs and sustainable value to all aspects of hotel operations, from board rooms to guest rooms, and every level in between.
What does it take to create Buildings of the Future?
Build new or modernize with innovative solutions and services that prioritize sustainability, resiliency, efficiency, and people — build it for life, today.
• Energy is Hilton's second largest operational cost, equivalent to 5% of revenue raised.

• Resource efficiency matters – not only to Hilton management but also to eco-conscious travelers who judge a hotel by its environmental footprint as much as its amenities.

• Hilton sought the expertise of an energy management specialist capable of supporting resource efficiency on multiple fronts.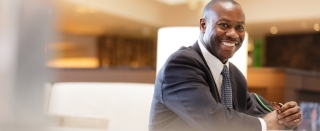 Efficiency and Sustainability with EcoStruxure

Apps, Analytics & Services: EcoStruxure™ Resource Advisor (formerly known as Resource Advisor)
Edge Control: EcoStruxure Building Management, Guest Room Management System, Property Management System
Connected Products: Room Controllers

• At the foundation of Hilton's relationship with Schneider Electric is EcoStruxure Resource Advisor, a scalable, cloud-based software platform that makes real-time utility pricing and consumption data visible, comparable, and actionable across Hilton's global portfolio of properties.

• Managers can configure personal dashboards and generate customized reports for water, waste, gas, steam, and electricity use to analyze performance and benchmark facilities.

• At Hilton sites around the globe, management can deploy Schneider Electric solutions to optimize resource efficiency across each building's combined assets and systems.

• Schneider Electric consultants provide data-driven support to Hilton, advising on procurement decisions and sustainability programs.

• Hilton utilizes additional offers from Schneider Electric to achieve sustainability goals and enhance the guest experience, including building management and guest room management solutions.
• Average 3% savings per year through energy procurement and cost avoidance, and significantly more savings through energy efficiency

• 14.5% energy savings since 2009
Thomas Webster, Director of Strategic Sourcing Energy Management, Hilton Worldwide
Customer Testimonial
"We have averaged 3% savings per year through energy procurement and cost avoidance. With those savings we can invest in additional amenities to make the guest experience exceptional."
Learn about our small business solutions