EcoStruxure™ - Triconex® Safety Instrumented System

Safety systems and critical controls

When safety and profitability are critical to the success of your business, you can rely on EcoStruxure Triconex Safety Systems. Recognized as the market's most dependable safety systems, our high integrity safety solutions drive measurable operation profitability improvements – safely.

EcoStruxure Triconex Safety Systems deliver safety for life, delivering superior protection for people, production and profits throughout the operating life of the asset.
2021 Global Company of the year for SIS Market

"Schneider Electric is at the forefront of providing a suite of SIS hardware controllers and software applications that help clients achieve higher safety, efficiency, and cost-efficiency, unmatched by the competition."

- Ranjana Lakshmi Venkatesh Kumar
  Senior Research Analyst, Frost & Sullivan

No. 1 Emergency Shutdown System

2021 Readers' Choice awards voted Triconex number 1 Emergency Shutdown System.

When safety and profitability are critical to business success, Triconex is the award-winning Emergency Shutdown System you can rely on.

Breakthrough Product Award for Tricon CX

EcoStruxure Triconex Tricon CX has been recognized as Processing Magazine's Breakthrough Product.

When the need for dependable safety has never been higher, Schneider Electric's Tricon CX safety system better enables customers in the oil and gas, refining, petrochemicals, power and other hazardous industries to identify and control their operating risks in multiple applications, including emergency shutdown systems, burner management systems, high-integrity pressure protection systems (HIPPS) and fire and gas systems.
Triconex SIS gives superior protection for people, production and profits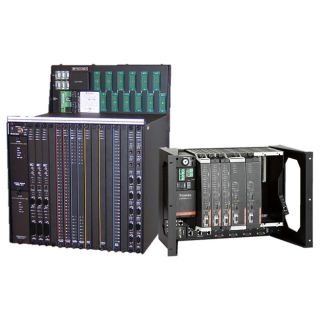 EcoStruxure Triconex Safety Systems are an integral element of EcoStruxure Plant, Schneider Electrics open, IoT enabled architecture for actionable business insight. With over 30 years of continuous safe operation, EcoStruxure Triconex Safety Systems have delivered more than one billion safe operating hours.
The leading family of high-availability, high-integrity systems (Tricon, Tricon CX, Trident and Tri-GP) are certified by TÜV Rheinland to safety integrity level 3 (SIL3), and can be used in all safety and critical control applications. Proven in the most demanding industries and challenging applications, EcoStruxure Triconex Safety Systems deliver a lifetime of performance.
Benefits
- The highest levels of protection for people, production assets and profits
- Continuous safe operation and maximum plant availability
- A lifetime of performance
- Lower operational risk
- Maximum value of ownership
Triconex technology platforms
Safety View

For superior bypass and alarm management.

Safety Validator

For automatic testing and documentation of the application logic

System Advisor

For enhanced configuration documentation, change tracking, and I/O management

Tofino firewall

Provides defense-in-depth cybersecurity when connecting control and safety systems
Process Automation Learning Services
Explore our digital and in-person courses, specially designed to ensure the technical skills of your automation workforce are future-ready. Or request a custom learning solution to address your unique training needs.
Documents and downloads
Access offer documentation, support information, certificates, customer references...
Contact sales and support
From technical support to complete customer service, we care about your business and individual needs.