DataHub Biel: Customer Story Key Figures
PUE of less than 1.25, a peak value of energy efficiency in Switzerland
Operational efficacy of over 98%
Full transparency of performance and consumption data
Data centers and sustainability
The majority of data center providers surveyed see efficiency and sustainability as strategic differentiators to their business. Discover how the key drivers are encouraging multi-tenant data centers to implement sustainable, energy efficient solutions.
Exceptional energy efficiency

DataHub Biel

Watch how this Swiss colocation data center achieves remarkable energy efficiency while meeting the capacity and quality requirements for the IoT era.
Discover EcoStruxure
Learn how your business can achieve success with EcoStruxure: Innovation at Every Level.
The Internet of Things will connect more than 50 billion new devices in the next 5 years. Accompanied by the growth of cloud services, the demand for data center capacity is higher than ever before. In Switzerland, quality requirements for data center projects are particularly high due to high land prices and enormous security and environmental standards.

With its new Data Center in Biel, DataHub not only wanted to offer its colocation customers the highest level of security for their data, but also to operate the center in an extremely environmentally friendly and efficient manner. DataHub's key priorities were:

• Availability and security: meeting the highest quality standard
• Energy efficiency: electricity costs account for around half the operating costs of a data center
• Easy scalability and power density: due to high land prices in Switzerland
• Transparency: real-time insight into operations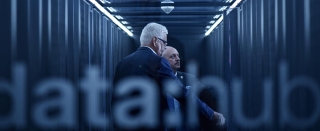 Exceptional energy efficiency with EcoStruxure

Edge Control: EcoStruxure IT Software: StruxureWare™ Data Center Expert, StruxureWare Data Center Operation
Connected Products: Uninterruptible power supply (UPS) Galaxy VX, InRow-Cooling, NetShelter SX Racks, Canalis busbars, Okken switchgear, Masterpact switch, Rack metered PDU, ATS transfer switch, Netbotz alarm management.

• Schneider Electric supplied a solution from a single source and thus reduced the number of interfaces, which was important for meeting the deployment schedule and minimizing risk.

• For the first time in Switzerland – and one of the firsts in Europe – the new Galaxy VX UPS system with lithium-ion batteries from Schneider Electric was used in DataHub Biel. This technology optimizes operational effectiveness of data centers thanks to flexible operating modes and an efficacy of over 98%.

• The use of Data Center Infrastructure Management (DCIM) software (EcoStruxure IT Software) ensures maximum transparency and real-time insight.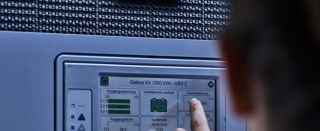 DataHub Biel is the result of close cooperation and shows that our standardized, modular comprehensive solution fits perfectly into the IoT era.

• The innovative technical design enables the highest quality standard (Tier III, partly Tier IV), availability of 99.99%, energy efficiency and easy scalability.
• The remarkable energy efficiency is the result of precise cooling, novel uninterruptible power supply Galaxy VX with lithium-ion batteries and systematic energy management with EcoStruxure IT software. Thanks to EcoStruxure, the data center achieves Power Usage Efficiency (PUE) values of less than 1.25 – a peak value for energy efficiency in Switzerland.
• Optimized operational effectiveness thanks to flexible operating modes and an efficacy of over 98%.
• The extremely high energy density of up to 15 - 20 kW per rack has saved a lot of space, which was particularly important considering the land prices in Switzerland. The modular design allows easy expansion of the data center while the system is running. EcoStruxure IT provides full transparency of performance and consumption data per customer with remote access for customers.
Adrian Roth, CEO, DataHub Group
Customer Testimonial
"The Biel region is known for its precision work – and we have the same approach to our new data center. With the DataHub Biel we are determined to meet the highest customer requirements at a relatively low cost."